It has been a very busy summer, with Friedrichshafen hamfest and the new CW transceiver kit preparation. Apologies for the lack of July newsletter... read on...
1. New kit: mono-band 5W CW transceiver kit with WSPR beacon
2. QRP Labs at Friedrichshafen 2017
3. YOTA 2017 summer camp buildathon 
4. U3S kit tracking Canadian C3 expedition news
5. Bob ZL1RS ocean floater buoy project, final update 
6. Balloon flights
7. Social media, Feedback, unsubscribing
1. New kit: mono-band 5W CW transceiver kit with WSPR beacon

QRP Labs is proud to announce the launch (if you haven't heard this already) of a new kit, the "QCX": QRP Labs CW Transceiver. This is a mono-band 5W CW transceiver, with a along list of features including rotary-encoder-turned synthesised VFO, Iambic keyer, CW decoder, and a WSPR beacon mode. It is available in 80, 60, 40, 30, 20 and 17m options, priced only $49. My favourite feature is the built-in test equipment (BITE) that is used for aligning and debugging the transceiver, making it possible to build and adjust this radio with literally NO other test equipment!
QCX transceiver page: http://www.qrp-labs.com/qcx
Order here, $49: http://shop.qrp-labs.com/qcx 
The picture top right shows the Band Pass Filter peaking adjustment tool; below right is the Frequency Counter of the Built In Test Equipment, measuring the test equipment's Signal Generator.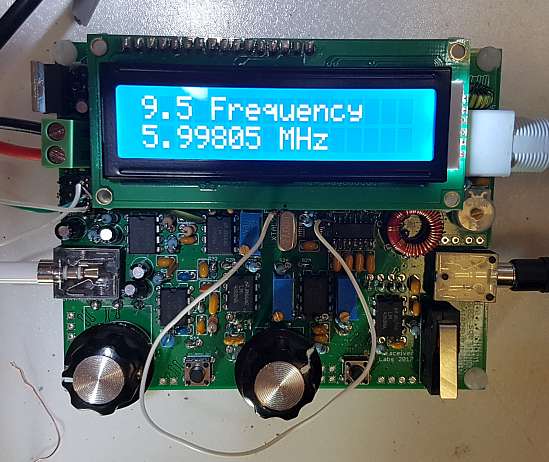 Features:
Easy to build, single-board design, 10 x 8cm, all controls are board-mounted
Professional quality double-sided, through-hole plated, silk-screen printed PCB
Choice of single band, 80, 60, 40, 30, 20 or 17m
Approximately 3-5W CW output (depending on supply voltage)
7-16V recommended supply voltage
Class E power amplifier, transistors run cool… even with no heatsinks
7-element Low Pass Filter ensures regulatory compliance
CW envelope shaping to remove key clicks
High performance receiver with at least 50dB of unwanted sideband cancellation
200Hz CW filter with no ringing
Si5351A Synthesized VFO with rotary encoder tuning
16 x 2 blue backlight LCD screen
Iambic keyer or straight key option included in the firmware
Simple Digital Signal Processing assisted CW decoder, displayed real-time on-screen
On-screen S-meter
Full or semi QSK operation using fast solid-state transmit/receive switching
Frequency presets, VFO A/B Split operation, RIT, configurable CW Offset
Configurable sidetone frequency and volume
Connectors: Power, 3.5mm keyer jack, 3.5mm stereo earphone jack, BNC RF output
Onboard microswitch can be used as a simple straight Morse key
Built-in test signal generator and alignment tools to complete simple set-up adjustments
Built-in test equipment: voltmeter, RF power meter, frequency counter, signal generator
Beacon mode, supporting automatic CW or WSPR operation
GPS interface for reference frequency calibration and time-keeping (for WSPR beacon)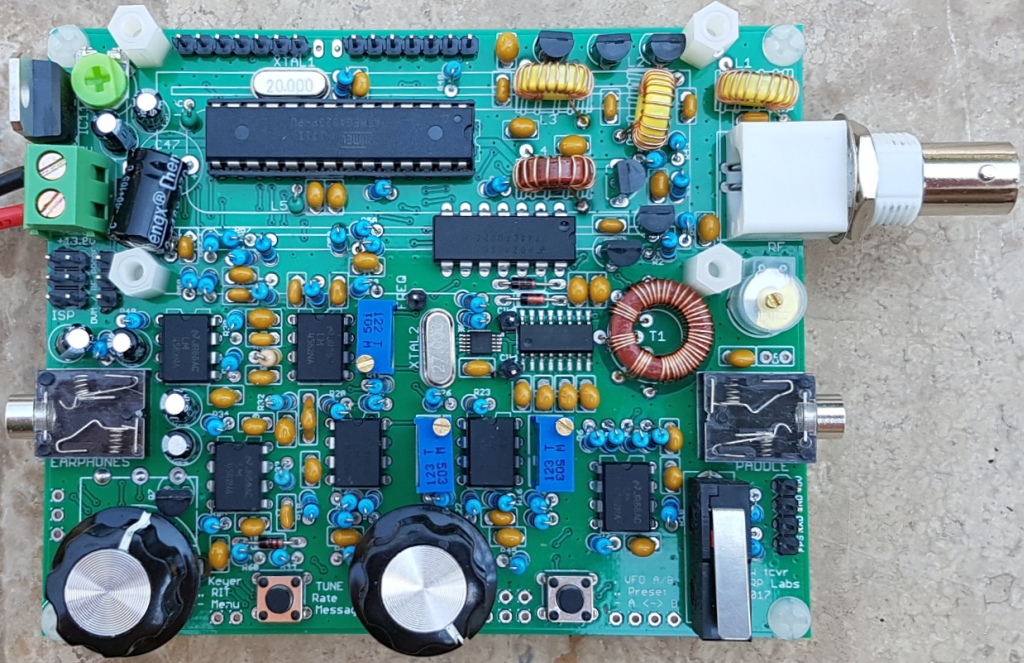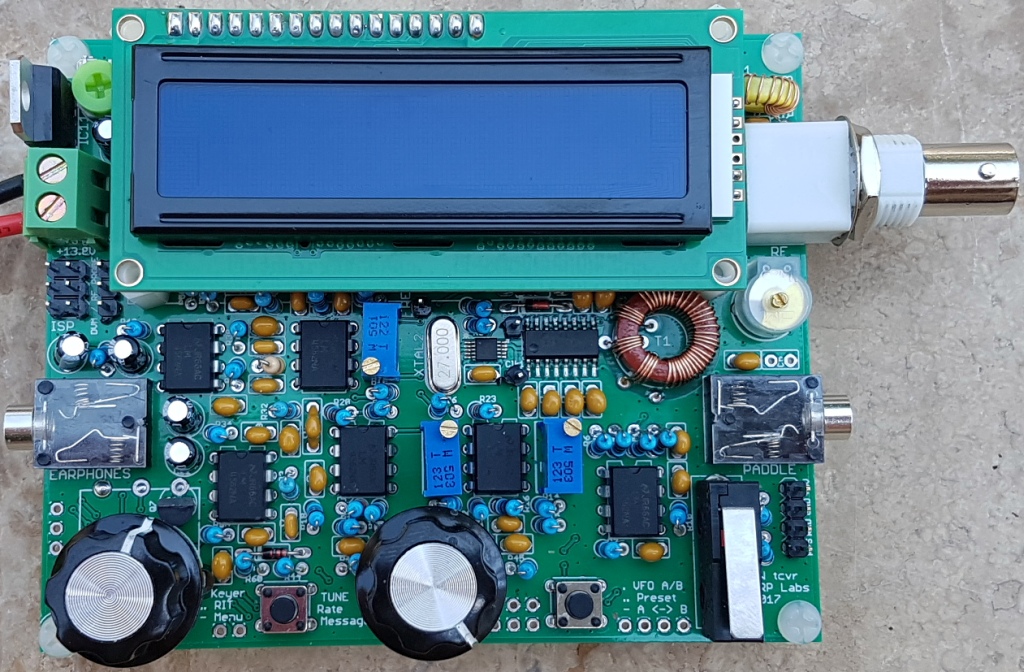 The kit was launched on Monday 21-Aug-2017 at 0900Z and all 320 available kits were sold out in a little over 24 hours. We are now taking pre-orders for the next batch of 500 kits currently being manufactured, and expected to start shipping in mid-September. 
It's interesting to look at some statistics of the orders so far. These statistics are based only on the orders taken since 21-Aug-2017 0900Z, they exclude the Friedrichshafen hamfest pre-orders. The five countries are USA (44%), Germany (14%), UK (13%), Australia (4%) and Canada (3%). The kit has so far been ordered by 32 countries (Post Office countries, not DXCC which would be more!). The most popular band is 40m at 42% of orders, followed by 20m (31%) and 30m (15%).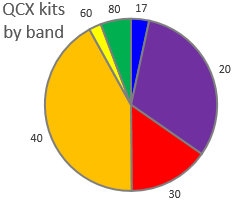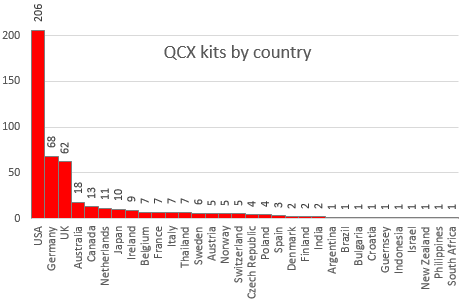 2. QRP Labs at Friedrichshafen 2017
QRP Labs exhibited at Friedrichsafen International Amateur Radio Exhibition, the largest ham fair in Europe, from 14-16th July 2017. There was a continuous crowd around the QRP Labs booth and it was very nice to meet so many QRP Labbers, as well as recruit some new ones! A variety of QRP Labs kits were demonstrated on the table, and available for purchase. But the main highlight for most visitors was the pre-production prototype of the new CW transceiver kit. I explained and demonstrated its features so many times over and over that I had a sore throat before lunchtime on the first day.
Below left: Friedrichshafen main A1 exhibition hall; below right: with Steve G0XAR (left)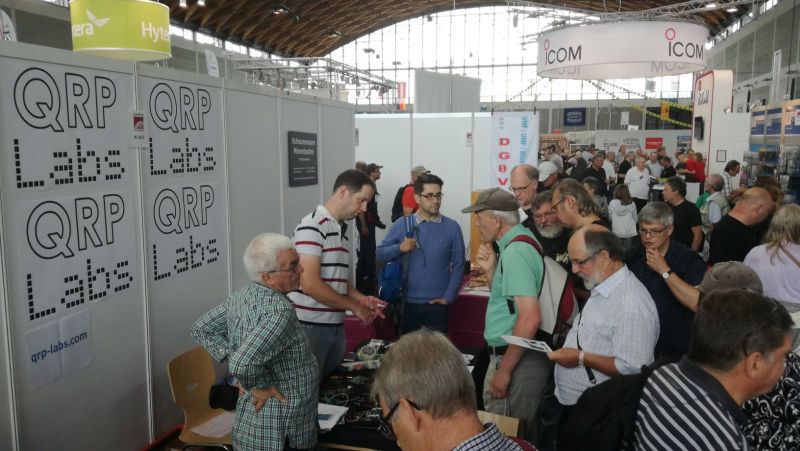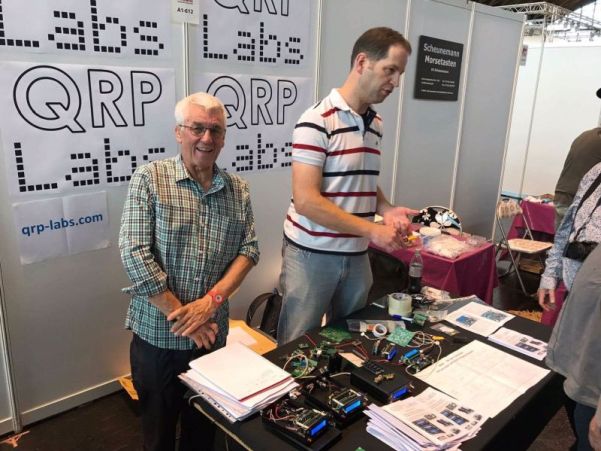 The QRP Labs humble table was right opposite Kenwood's large impressive display. Early in the morning of the second day, before the exhibition was open to the public, a nice gentleman from the Kenwood booth came over. He asked what's all the fuss about, you always have a crowd over here. I said, take a seat, and I demonstrated to him the new CW transceiver. He pre-ordered one! 
Some other highlights:
Chris OE1CGS presented me with one of his QLG1 GPS receiver kit enclosures, which was shown in the March newsletter. This is his own stylish design 3-D printed in ABS Plastic, that fits the QLG1 GPS precisely. It's a perfect fit, and is very useful, since my own QLG1 GPS still had no enclosure! If you have a 3-D printer you can print one using the model at https://www.thingiverse.com/thing:2167408 
I met Klaus DJ7OO and recognised his callsign immediately. The component values of the 600m and 2200m Low Pass Filters in the QRP Labs LPF kit range are from a design by Klaus, published in the RSGB LF book. So I gave him one of the 600m kits to celebrate our meeting (see photo, below left).
Finally, I was presented with a beautiful 27MHz TCXO version of the QRP Labs Synth kit. His PCB design uses all surface mount components for the voltage regulator and I2C bus level converter, and has the same pinout as the QRP Labs module. The photograph (right) does not do justice to the beauty of the gold-coloured SMA and 27MHz TCXO! BUT... in the chaos, I have lost the paper where I wrote down the name and call of this gentleman! We have a photo (below right) - I would love to know, who IS this man? Are you reading this? Can anyone tell me?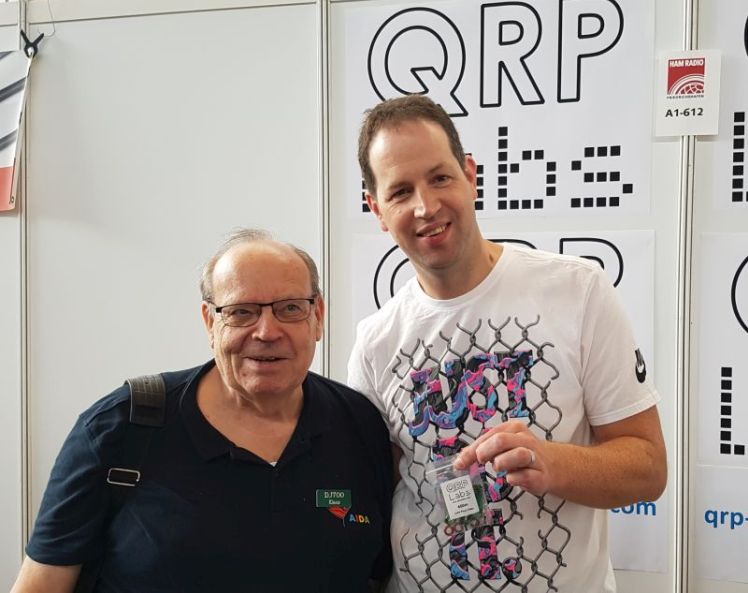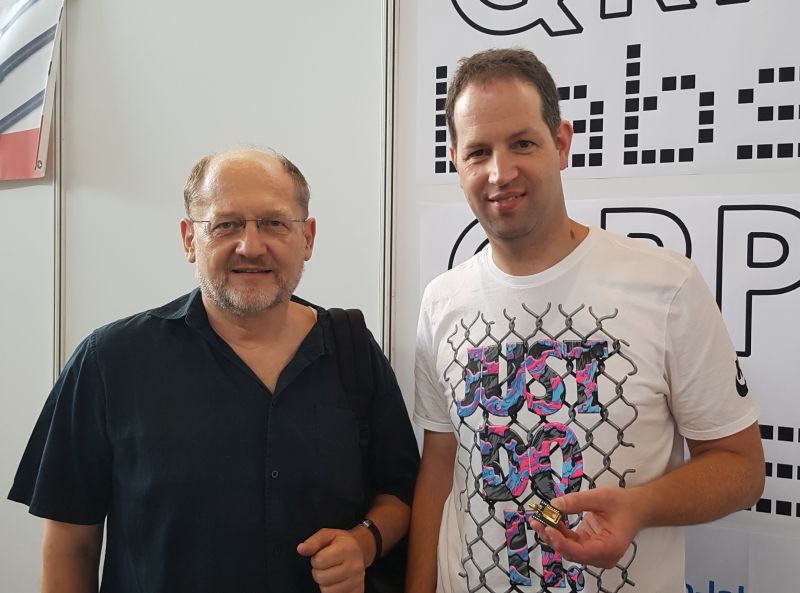 Many thanks for very much help from, among others:
Hannes DL9SCO of Palm Radio http://palm-radio.de/english/english.html who lent me the table cloth, the massive 12V battery that powered QRP Labs for 3 days, and for his fantastic hospitality at his QTH after the exhibition;
Roberto IZ7VHF who printed the posters for the booth, and the leaflets to be handed out
Stefan DJ4NOB who found me a very nice close-by inexpensive hotel right at the last moment, as I had been too busy/disorganised to sort it out in time
Steve G0XAR manned the stand for a while on Sunday while I took a quick look at the fleamarket; and kept feeding me chocolate, coffee and other sustainance
Several unknown strangers who brought me coffee and drinks to keep me vertically polarised throughout the exhibition
3. YOTA 2017 summer camp buildathon
The YOTA 2017 summer camp was hosted by the RSGB in UK at the beginning of August. QRP Labs provided 90 of the new QCX CW transceiver kits for the buildathon, the 17m version (well it is the YOTA 2017 summer camp, after all... 17 being the year). 
The version to the right is the 30m version, pictured with the Palm Radio Pico-keyer. 
YOTA 2017 was the original motivator to design the new QCX CW transceiver kit! It all started with an email from the YOTA 2017 project team at the end of February, looking for proposals for a kit for the buildathon. Initially seeing the ridiculously low budget just made me chuckle while I hit the delete key... but later that fateful day, as well as later all that night, my mind kept coming back to it... what if... what if, what if it was possible to design something really serious and fantastic, and keep it within that budget, for cost at least...  and that's how the QCX story all began, 6 months ago today!
Apparently the young people (aged 15 to 25) attending the YOTA 2017 summer camp from around Europe (and Japan) greatly enjoyed building the QCX and quite a few were successfully completed within the limited time available. First to complete his kit and have a QSO was Peter M0SWN, and you can see him operating the kit in an RSGB video on YouTube - see the QRP Labs QCX page http://www.qrp-labs.com/qcx and scroll down to the bottom. 
4. U3S kit tracking Canadian C3 expedition news
As announced in the June newsletter, QRP Labs is proud to sponsor the Canadian C3 Coast-to-Coast-to-Coast expedition celebrating Canada's 150th birthday, by providing an Ultimate3S kit and accessories (QLG1 GPS receiver kit, relay switched filter board, 20/30/40m Low Pass Filter kits, and enclosure kit. The radio was installed by a team led by Barrie VE3BSB.
The Ultmate3S transmits in Extended WSPR mode (with 6-character Maidenhead locator) 24 hours a day autonomously, on 40, 30 and 20m. QRP Labs provided a tracking solution that populates a live map at http://qrp-labs.com/c3 - Jeff VE3EFF has provided a computer and stable internet connection to run the tracking. 
The map below shows the tracked path to date. It is being reported on WSPR thousands of times every day. It continues to operate reliably day after day, without any intervention.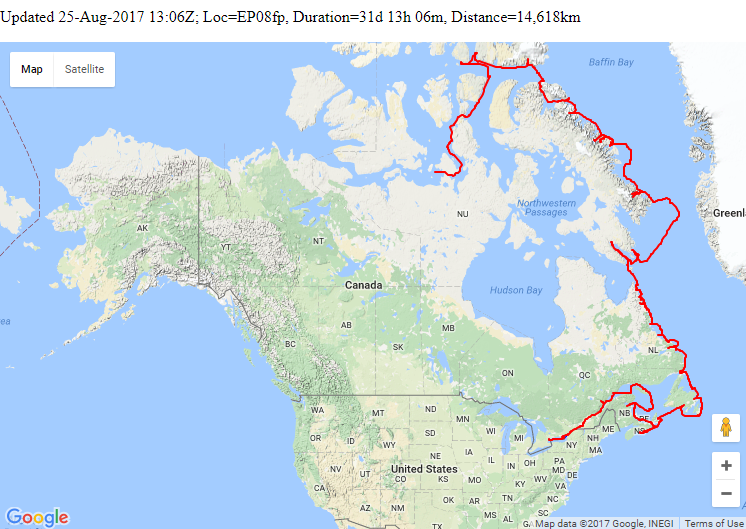 5. Bob ZL1RS ocean floater buoy project, final update
The amazing ocean floater project is now over! Bob ZL1RS reports that on 29th June 2017 the battery voltage went into a rapid decline. The controller is programmed to shut down when the battery voltage falls below a threshold of 1.2V. The last transmission set (WSPR + 2 x JT9) was at 14:04 to 14:08 UTC. The final transmitted position was QH54WX. Ocean Floater had been at see for 407 days.
Bob's project was based on the Ultimate3S transmitter and transmited WSPR and JT9 once per hour. The battery pack consisted of 18 alkaline D-cell batteries. 
See Bob ZL1RS' web page http://www.qsl.net/zl1rs/oceanfloater.html for more details!
Congratulations again to Bob for a truly amazing and inspiring project, executed with absolute perfection!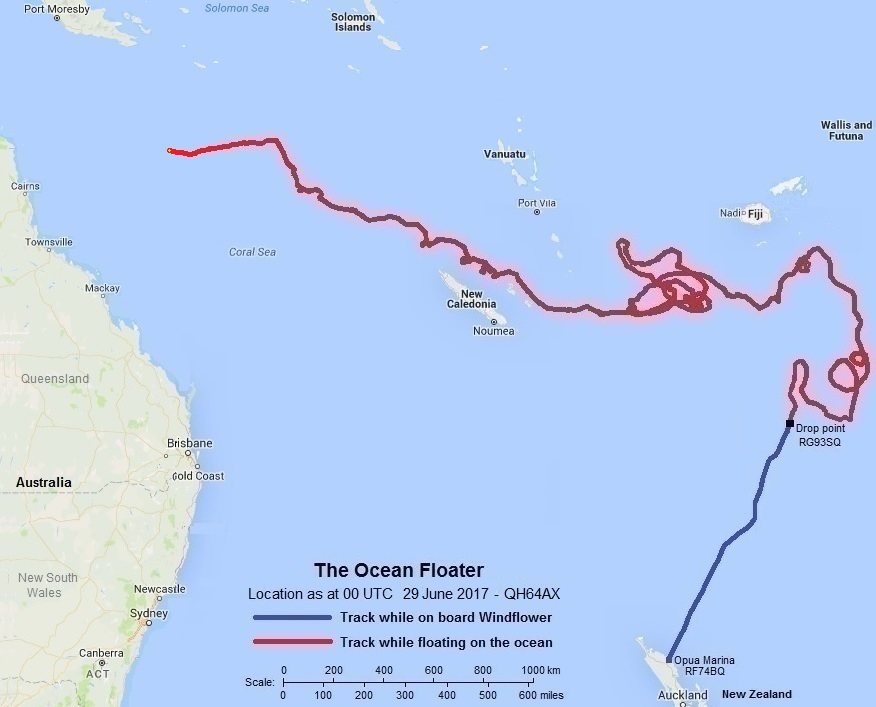 6. Balloon flights
There have been lots of balloon flights flying QRP Labs products since the last newsletter! But my attention has been so taken up with the new QCX CW transceiver kit that I have not been keeping up to date with what Dave VE3KCL, Jim N2NXZ and others are up to. Most of the flights are tracked on the QRP Labs flight pages see http://qrp-labs.com/flights. I won't write more about it this time, and anyway this newsletter has already become long enough. So, next month!
7. Social media, feedback, unsubscribing
Social media: QRP Labs has the following presence on social media. If you use these social media then please join or follow QRP Labs! Announcements such as new products, balloon launches, etc., will be made first in these media!
1) QRP Labs groups.io discussion group https://groups.io/g/QRPLabs for discussion and support on all QRP Labs products
2) QRP Labs Facebook page https://www.facebook.com/QRPlabs/ 
3) QRP Labs is @qrplabs on Twitter https://twitter.com/qrplabs 
Feedback: As always, please do write with any comments, ideas, criticism, feedback of any kind!
Unsubscribing: If you want to unsubscribe from this monthly newsletter, then either log in to your QRP Labs shop account and un-check your newsletter preference, OR, email and we'll take care of it. 
Vy 73 de QRP Labs