| | | |
| --- | --- | --- |
| | QCX: a feature-packed, high performance, single-band 5W CW transceiver kit, with WSPR beacon and built-in alignment/test equipment. Available for 80, 60, 40, 30, 20 or 17m bands. It has rotary encoder synthesised tuning, VFO A/B/Split, Iambic keyer, CW decoder, and more... | |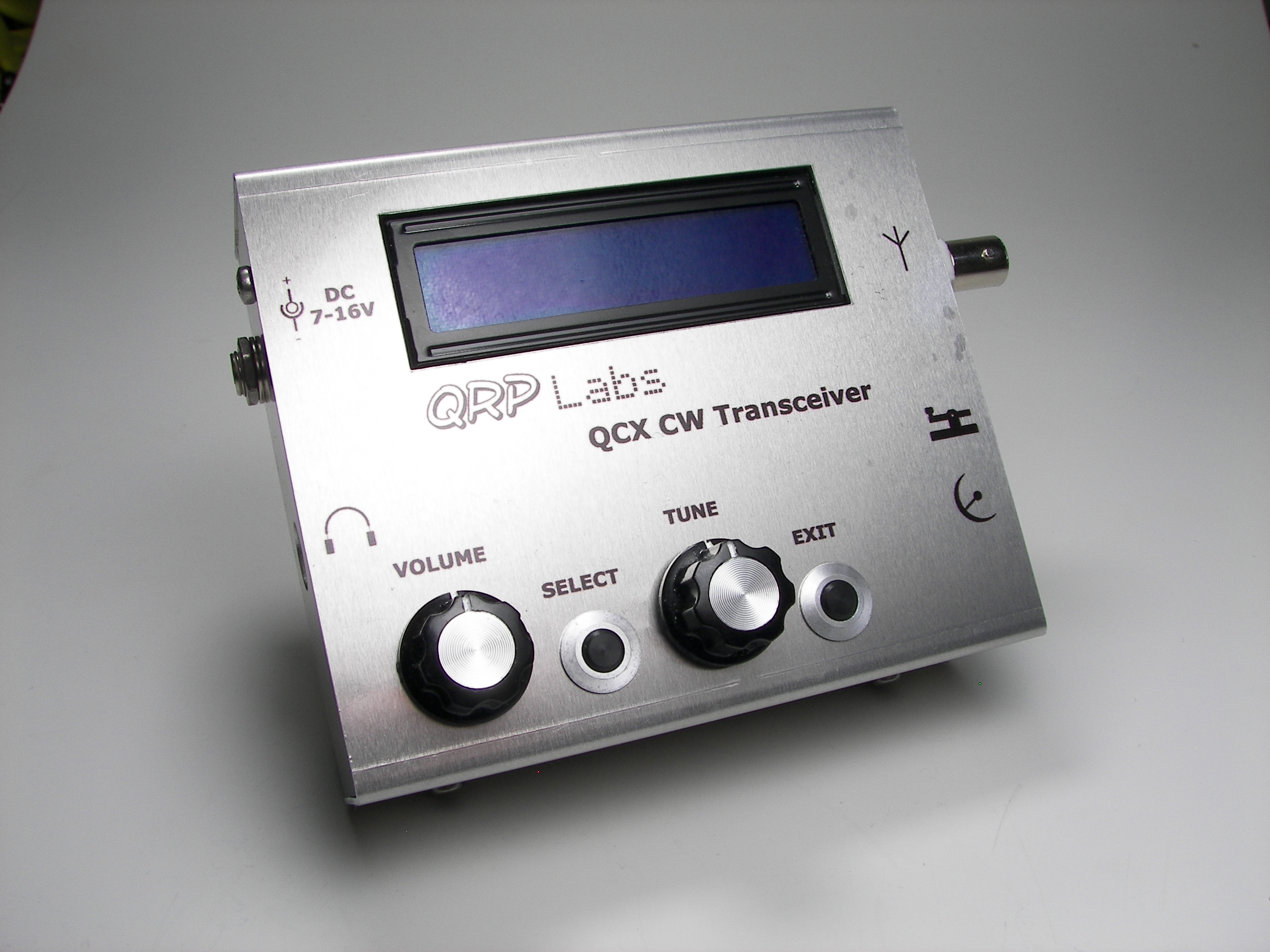 The "QCX" is a 5W, single-band, high performance CW transceiver kit with WSPR beacon, and built-in alignment/test equipment. It is available for 80, 60, 40, 30, 20 or 17m bands. See below for the long list of features! This is a kit of parts that you assemble yourself. There are NO surface mount components to solder (two SMD ICs are already factory pre-soldered).
There is also an enclosure kit available (see photo, right). 
Please see QCX Frequently Asked Questions page for any queries you have. In case of any problems, please see the QCX trouble-shooting page. 
---
Assembly and operating instructions
The assembly document includes circuit diagram and a detailed description of transceiver operation. Please download the correct assembly instructions for your PCB revision. The PCB revision is the number in the bottom right corner. Kits shipped since 15-Jan-2018 use the Rev 3 PCB. The changes for Rev 3 are: 
1) Includes the modification for reliable microcontroller startup: re-routing of tracks for existing inductor L5
2) Includes the modification for occasional PA instability on higher frequencies: additional 10K resistor R64 now supplied
3) Includes the modification for easier LCD contrast adjustment: additional 3.3K resistor R65 now supplied
4) Larger holes for 3.5mm socket (Key, Audio out) ground connections, to make fitting this component easier
IMPORTANT NOTE ABOUT PCB REV 4
The manual has not yet been updated for kits with PCB Rev 4. The changes are minor. The only change is that C21 and C22 are now ceramic capacitors (previously 10uF electrolytics). This is said to reduce the audible "click" on Tx/Rx switchover during full-QSX mode - though many people have said there is NO click. In manual step 3.40 "Install 10uF capacitors", please install only FOUR 10uF capacitors, and install ceramic capacitors in positions C21 and C22 (not 10uF). The locations are the same. The correct number of 10uF capacitors is provided. 
The value of the ceramic capacitor recommended by some constructors is 0.1uF. However it has been pointed out that this value will reduce the maximum available gain of the QCX by 14dB. Some people find the gain of the receiver is already very high - and this 14dB loss might not be relevant on the lower bands e.g. 80m and 40m. On higher frequencies it might be less desirable. Since 16-Jul-2018 we are supplying both 1uF and 0.1uF capacitors in the kits. The recommended value is 1uF which has negligible impact on receiver gain. 
Note the 1uF capacitors are labelled "105". 
There is also space for C54, which is a 10nF capacitor from the wiper of the gain control potentiometer to ground. However this is optional and the 10nF capacitor is not included in the kit. 
Rev 3 (left) shows position of C21 and C22 (10uF).
Rev 4 (right) shows position of C21 and C22 (0.1uF or 1uF); also C54 (10nF) which is coloured yellow; however C54 is optional (refer to discussion group).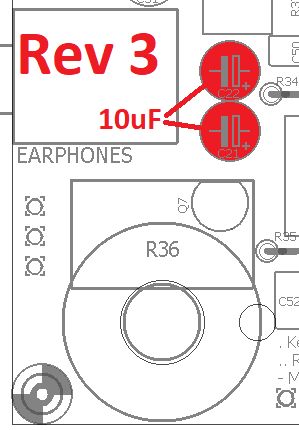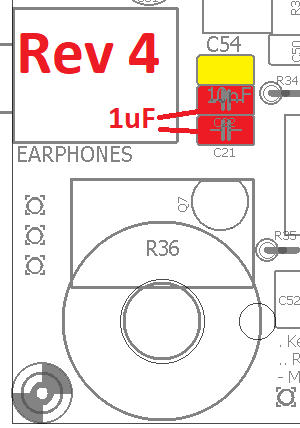 DOWNLOADS:
---
Features
Easy to build, single-board design, 10 x 8cm, all controls are board-mounted
Professional quality double-sided, through-hole plated, silk-screen printed PCB
Choice of single band, 80, 60, 40, 30, 20 or 17m
Approximately 3-5W CW output (depending on supply voltage)
7-16V recommended supply voltage
Class E power amplifier, transistors run cool… even with no heatsinks
7-element Low Pass Filter ensures regulatory compliance
CW envelope shaping to remove key clicks
High performance receiver with at least 50dB of unwanted sideband cancellation
200Hz CW filter with no ringing
Si5351A Synthesized VFO with rotary encoder tuning
16 x 2 blue backlight LCD screen
Iambic keyer or straight key option included in the firmware
Simple Digital Signal Processing assisted CW decoder, displayed real-time on-screen
On-screen S-meter
Full or semi QSK operation using fast solid-state transmit/receive switching
Frequency presets, VFO A/B Split operation, RIT, configurable CW Offset
Configurable sidetone frequency and volume
Connectors: Power, 3.5mm keyer jack, 3.5mm stereo earphone jack, BNC RF output
Onboard microswitch can be used as a simple straight Morse key
Built-in test signal generator and alignment tools to complete simple set-up adjustments
Built-in test equipment: voltmeter, RF power meter, frequency counter, signal generator
Beacon mode, supporting automatic CW or WSPR operation
GPS interface for reference frequency calibration and time-keeping (for WSPR beacon)
---
Firmware
There have been several firmware updates since the 21-Aug-2017 launch of this QCX CW transceiver kit. These provide enhancements and bug fixes. If you have an AVR programmer you can update your firmware using the on-board programming header. The firmware version history and more information are on this page (click!).
---
Modifications
CLICK HERE for a Modifications page, various improvements you can easily make to your QCX radio.
---
Photographs
These photographs show the prototype kit, both with and without the LCD module plugged in. The powered-up kit shows the radio's Frequency Counter feature measuring the frequency generated by its Signal Generator feature.
---
Builders' enclosure photographs
A common question about the QCX transceiver, is about what case to use for it. There is not an official QRP Labs enclosure for the QCX. But many people are finding their own solutions to this question. 
For photos and information about what some constructors have done about enclosing their QCX, visit the QCX builders' gallery page!
---
Shipping updates
QCX kits are being shipped within typically 1 business day of the order. If you ordered also an enclosure kit, and if the enclosure kits are pending supplies from the manufacturer, then your order will wait longer. 
Serial numbers will be advised via a label on the QCX kit bag itself.
---
Videos and reviews of QCX
The kit was originally designed for the RSGB Youths On The Air summer camp buildathon in August 2017. This RSGB YOTA Vlog video, shot at QRP Labs booth at Friedrichshafen 2017. 
For more videos and reviews please see the QCX videos page!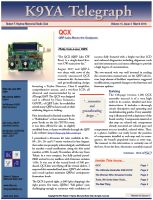 K9YA Telegraph, March 2018 edition, review by Philip K9PL
The K9YA Telegraph's March issue has an article on the QCX by Philip K9PL, sub-titled "QRP Labs Moves the Goalposts". Philip concludes his 3-page article: "...the QCX behaves like a monoband, QRP slice out of a QRO high-end rig with deep, deep menus - very innovative and a joy to operate.
The K9YA Telegraph is a free monthly Ham Radio eZine, see http://www.k9ya.org/ for details.
Philip K9PL has provided a PDF of the article with permission to reproduce it on the QRP Labs website. CLICK HERE to read it!
---
Common Issues
The following issues have arisen more than once, and have the solutions indicated. 
| | |
| --- | --- |
| Issue | Solution |
| Microprocessor does not boot up at power-up, requires switch-off/switch-on again to power up properly | See modification here |
| Power Amplifier instability results in low or unstable power output, or high current draw, or blown MPS2907 | See modification here |
| LCD contrast fluctuates on transmit | Check for LCD module frame short to L2, see here for details |
| Low output power on 20m (or other band) | LPF inductance is probably too high, resulting in attenuation at the transmit frequency. Remove turns one at a time from LPF inductors L1, L2, L3 |
| No power output at all | Check continuity through L1, L2, L3 and other inductors L4 and T1, as advised in the manual. Probably one or more have not properly burnt off the enamel so there is no electrical connection.  |
---
Performance measurements by Ed WA4MZS
Ed made some interesting measurements of his 40m QCX serial number 354 (see also builders' photos page). 
Power supply = 13.8 VDC
Current draw (receive) = 123 mA
Current draw (transmit) = 514 mA
Transmitter output (50Ω load) @ 7.020 MHz = 4.0 watts
Receiver MDS @ 7.020 MHz = -121 dBm (0.2 µV)
Reference frequency = 27.004345 MHz
Transmitter frequency (display 7.020 MHz) = 7.0200003 MHz
Transmitter 2nd harmonic (14.040 MHz) = -48.74 dBc
Spectrum analyser close-in and wide screenshots:
---
Board dimensions
The following diagram shows some dimensions of the QCX PCB. Important notes:
All dimensions indicated are in inches. Multiply by 25.4 to get mm
The PCB size is 4.0 x 3.2 inches exactly
The coordinates are indicated as X, Y in inches, relative to the 0, 0 origin which is the bottom left corner of the PCB
The coordinates of the gain potentiometer, tuning control, and the two buttons are all the center points of the control shafts
The coordinates of the PCB mounting holes in the corners are the center points of the drill holes
The coordinates of the BNC socket, 3.5mm jack sockets (audio out, paddle in), Power connector and microswitch (straight Morse key) are all the coordinates of the Eagle CAD library component origin, and are as shown by the end of the line mark on the diagram. 
The coordinates of the LCD Module are the bottom left corner origin of the module, as shown. Please refer to the information on the LCD module below this diagram.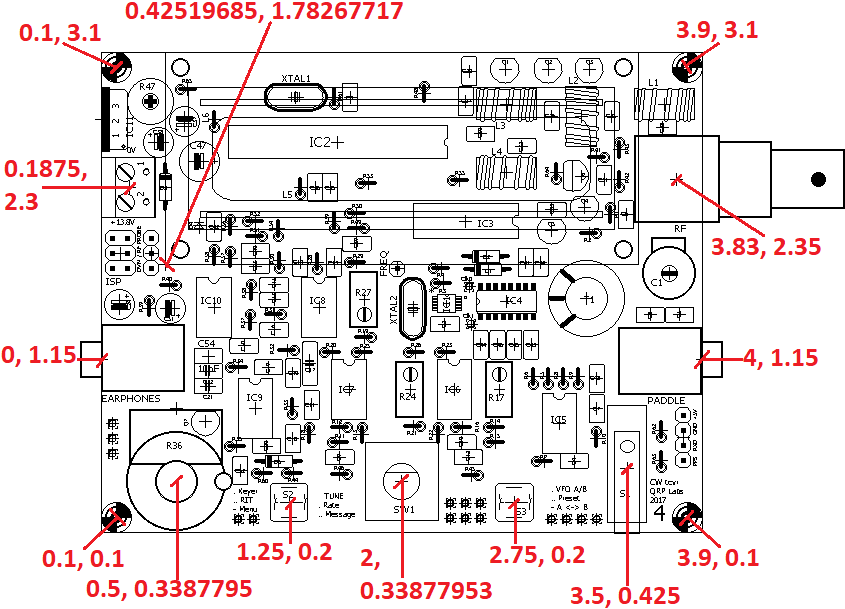 Specific notes about the LCD module:
The dimensions on this LCD module diagram (below) are in mm. Divide by 25.4 to get inches
The coordinates (in inches) of the LCD module in the above QCX PCB diagram refer to the bottom left hand corner of the LCD module
The LCD module is separated from the main QCX PCB in the vertical direction, by four 12mm nylon hex spacers installed at the corners
The LCD module PCB size is 80 x 36mm
The four corner holes are centered 2.5mm in from each corner of the LCD module
Do NOT trust the dimensions in the following diagram, for the HEIGHT of the module (cross-section at upper right of the diagram) and for the size of the black metal cover-plate for the LCD glass. These dimensions are known to vary slightly from manufacturer to manufacturer. So if you require exact measurements for these parameters you should verify them with your own measurements. The other dimensions (hole location, 80 x 36mm board size) are always standard.